When we Wished Upon a Movie! Our Second Movie!
Julie Andrews and Abigail Breslin in a Disney Dream Portrait
1. What movie did you watch?
Pinocchio. It is Disney's second film, released in 1940. The movie is based off of The Adventures of Pinocchio, a novel for children by Italian author Carlo Collodi. The film is set in Tuscany, Italy although many people mistake it for Germany or Austria. Pinocchio was actually supposed to be Disney Studio's third film, but Bambi was behind on production due to trouble with the animal animation and was pushed back, allowing Pinocchio to be film number 2.
2. Have you seen it before/how long has it been since you last saw it?
Maddie: I had seen it before once, a long time ago. But that was probably the last time up until now. The whole section with Strombolli and Pleasure Island scared me too much for me to watch it again. If you think about it, this really is one of the darker Disney movies.
Alexis: Yes but only a few times, it was never really one of my favorites.
3. What memories did it recall?
Maddie: Really, just being terrified of this movie. Watching it back there are a lot of really dark images and ideas that appear that you probably don't get as a child. Exhibit A:
Alexis: Agreed, basically it brought up memories of being totally freaked out. The scene on Pleasure Island where they all turn in to donkeys scared the crap out of me, and honestly it's still creepy! That one scene just really stood out in my mind, it gave me nightmares as a kid.
4. What did you think of it?
Maddie: Visually, the animation was absolutely beautiful. It's interesting to see how much animation work has grown in the short span of time from Snow White to Pinocchio. Here's a great example of this, Alexis and I were shocked to see that they all thought Pinocchio had died, but look at how beautiful the animation for that part was:
Alexis: I thought that it was okay, definitely not one of my favorites. So much of the movie is taken up with creepy/ threatening characters and situations, with very few "feel good" moments. Honestly, thank god Jiminy Cricket was around to throw in some comic relief.
5. Favorite Moment:
Maddie: I would say that as much as I dislike the story of the movie, I can't help but love the movie's signature song:
So that is probably my favorite part at the beginning and the end of the movie.
Alexis: Any scene with Figaro the cat. He's my favorite; he's adorable and funny. I love cats.
6. Any other comments:
Maddie: I just love Figaro: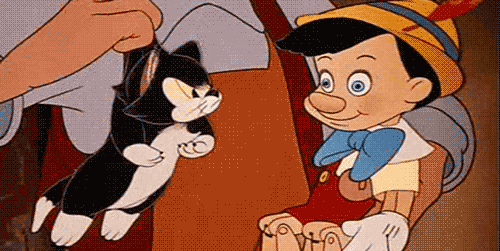 And also, I hadn't realized that this movie is actually set in Italy, so that was a fun fact to learn!
Alexis: I have to say that watching Snow White was more fun. Also, I hate to bring this up again but Once Upon a Time's Pinocchio is much more fun to look at.
What a bad-ass!
Well, until next time! Feel free to leave a comment!